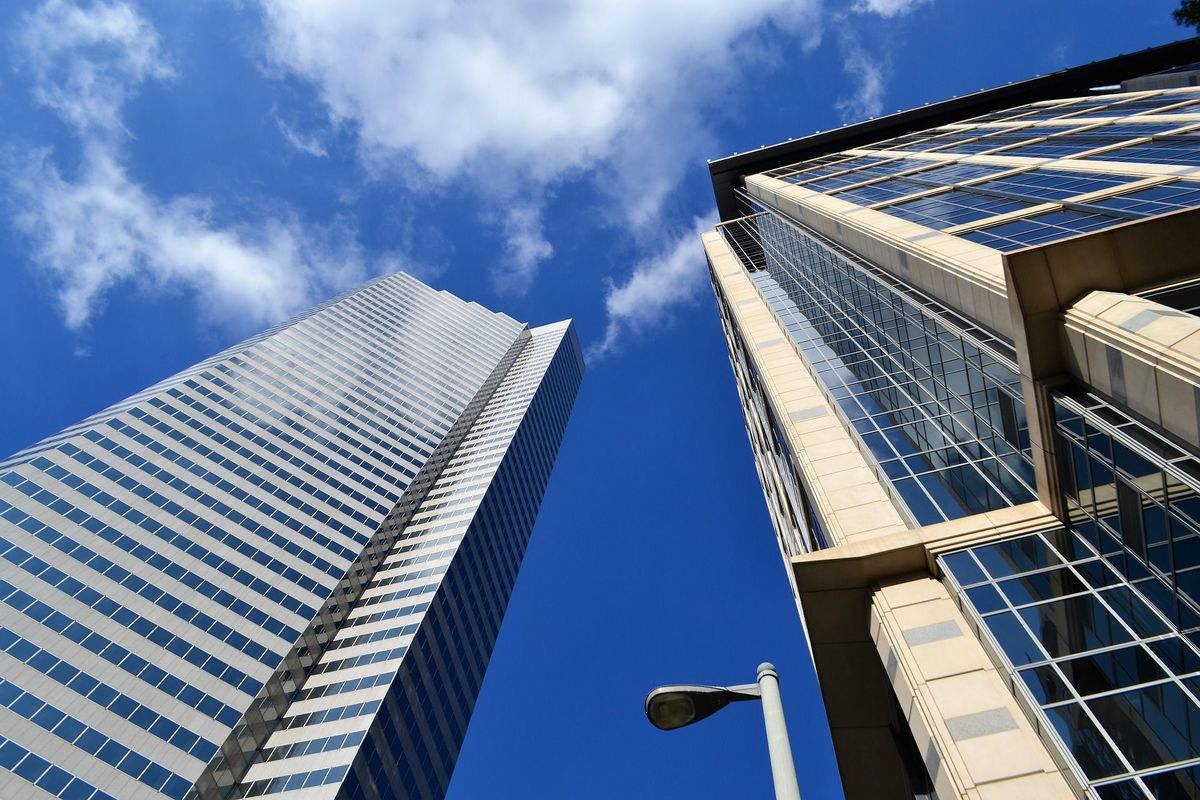 Komercēkas, foto - Pixabay
The measures to contain the Covid-19 pandemic have had a significant impact on the commercial property market in Riga, with hotel and catering providers as well as retailers being the ones affected the most.
OFFICE SPACE
In the first half of 2020, four office buildings were commissioned, adding additional 50,600 square metres to the market of office space.
The most exclusive 97,500 square metre wide apartment and office concept in the Baltics, the multifunctional Z-Towers complex, has been put into service. It consists of 2 circular 30 storey high towers. The underlying podium is connected to these towers. The Z-Towers Class A office space accounts for 10,000 square meters, and it is the highest project in Riga.
The office building Henrihs in Jaunā Teika has also been put into service, which has thus become the largest modern office complex in the city. This building is the latest addition to the most influential innovation and technology neighbourhood in Riga. Henrihs is a Class A office building with an area of​23,600 square meters and more than 2,000 workplaces on 16 floors. The building houses office space, a modern conference and event centre, an authentic indoor street food area, a kindergarten, a roof terrace and a multi-storey car park.
The first phase of the expanded part of the Origo shopping centre has been opened in the new Origo building, as well as the Origo One business centre, where 11,000 square meters have been allocated for offices and business premises. The modern Origo One business centre, which houses Class A offices, is located in the heart of Riga. Its priorities are great location, advanced technology and engineering solutions.
Following the reconstruction, the post-modern building, designed by architect Juris Skalbergs in the late 1970s, houses modern and spacious Class B+ office and retail premises. Zones for networking have been created on the uppermost floors, each floor has a small balcony overlooking river Daugava. The office spaces comprise 6,000 square meters.
The pandemic has certainly changed the opinion of many companies on the usefulness of office space, as it made them realize that a fairly decent and efficient work organization is possible remotely as well, without sacrificing communication and productivity. At the same time, however, word has it that people lack a sense of community with their team, and many have been uncomfortable working from home due to insufficient space to isolate themselves from other family members and focus on work.
At present, a strong tendency to change offices is not observed. Everyone seems to be on a standby mode, as no one can be certain about what awaits in the second half of this year. During the quarantine, there were more negotiations between landlords and tenants about the possibility of not paying the rent for some time or at least receiving a partial reduction, as most employees carried out their work duties remotely, leaving the offices practically empty. However, a large proportion of office tenants admit that they have not felt the support of landlords.
In the long run, some companies are expected to move to smaller or lower class offices. It depends on the overall expectations and capabilities of the companies. This will lead to an increase in vacant office space, forcing landlords to reconsider rents. The situation could be more difficult in older office buildings, as tenants are now paying more and more importance to various engineering solutions that ensure a better air flow in office premises.
However, despite the current situation, work has begun on the construction of the first phase of the new Press House quarter. The first stage of the project development foresees the construction of a modern Class A office centre, retail premises with the first football field in the Baltic States located on the roof of the building, as well as the Holiday Inn hotel, which will be the first InterContinental Hotels Group (IHG) hotel in Latvia. In the first phase of the project, 25,000 square meters will be used for Class A offices, 7,000 square meters for retail premises, 40,000 square meters for multifunctional premises, and a hotel with 307 rooms will be built in the former Press House building.
The rent for Class A offices is from € 13.00 to € 16.00 per square meter and from € 8.00 to € 13.00 per square meter for Class B offices. In some exclusive office buildings, the rent is € 17.00 - € 18.00 per square meter, excluding management fees. Management fees in Class A offices start from € 2.50 to € 4.00per square meter per month, while in Class B buildings from € 2.00 to € 3.50 per square meter per month.
RETAIL SPACE
The first half of 2020 has had a significant impact on the retail space segment. With the onset of quarantine in the country and the severe restrictions, many households switched to ordering products and daily household items on-line with home delivery or delivery to designated points of receipt at supermarkets. Only grocery stores, pharmacies and pet stores were allowed to continue operating in the shopping centres, prohibiting the operation of other tenants. Several supermarket tenants were unable to reach an agreement on rent pay "holidays", which forced them to terminate their contracts and vacate their premises, as the financial burden turned out to be too great.
This time was also a major test for caterers. The winners were certainly those who responded quickly and managed to restructure their business and deliver food to people at their homes.
However, the difficult global situation did not stop activity in the retail segment, and some developers are currently modernising existing premises and even developing new projects. Several new clothing stores have opened in Riga, and the shopping and lifestyle centre SĀGA, located opposite the IKEA home supermarket, is planned to open in autumn. With the completion of the SĀGA project, a new stage of development will begin in the shopping centre segment throughout the Baltic States. The traditional practice of developing centres will be replaced by a new concept of shopping centres, and SĀGA will become the current flagship of shopping and lifestyle centres in the Baltics.
The catering chain brands Burger King and KFC also have significant development plans for the Baltic market.
Rimi Hyper opened its retail store in the shopping centre Aleja in Ziepniekkalns, occupying an area of almost 4,300 square meters, while Rimi Express was opened on Aspazijas Boulevard and Rimi Mini on Tallinas Street.
Significant investments in the reconstruction of the stores have been made by Maxima – the Maxima XX format store on Saharova Street has been expanded and now prides itself as the eighth large format Maxima XXX store in Riga, and a completely new Maxima XX store has been built in Mežaparks, Rusova Street.
The rent for retail space for small premises up to 100 square meters in the city centre has not changed much in 2020, ranging from € 10.00 to € 33.00 per square meter per month.
In the Old Town, in locations with high flow of pedestrians, rents range from € 20.00 to € 40.00 per square meter per month, reaching up to € 55.00 per square meter for exclusive premises. As regards smaller alleys in the city centre and in the Old Town, the rent charges range between € 10.00 and € 20.00 per square meter per month.
Rent in shopping centres range from € 8.00 per square meter per month (for premises with an area of more than 1000 square meters), from € 15.00 to € 35.00 for medium-sized premises (150-300 square meters) and from € 25.00 to € 50.00 (for premises up to 100 square meters). Anchor tenants have to pay an average of € 6.00 to € 10.00 per month per square meter.
INDUSTRIAL SPACE
The industrial segment currently seems to have suffered the least from the pandemic. With the growth of on-line sales, parcel delivery and e-commerce companies interested in professional, modern warehouses are showing increased activity.
Construction of Class A warehouse and logistics park A6 in Riga, Maskavas Street has started. The construction was begun by Pillar Capital. Currently, warehouse buildings have been erected on the plot of land, most of which were built approximately 10 years ago. Now, a single logistics and warehousing park is being developed, which will allow for full use of the potential of the property and land area. It is planned that the total area of the buildings will exceed 50,000 square meters. Thus the new logistics park will become one of the largest within the territory of Riga.
In Q2 of 2020, the new LIDL logistics centre in Dreiliņi was commissioned, which will ensure the operation of LIDL stores throughout Latvia and Estonia. The newly built 51,000-square-meter logistics centre will also house the company's headquarters.
There is a demand for modern warehouse space in the vicinity of Riga. The greatest demand is for premises from 1000 to 2000 square meters, but demand is also growing for smaller premises with an area below 1000 square meters.
In the first half of 2020, the rent for new warehouses in the city of Riga and the surrounding region ranged from € 3.50 to € 4.80 per square meter per month. Rents for older warehouses were from € 1.50 to € 3.20 per square meter per month. Utility fees average between € 0.50 and € 1.00 per square meter per month.
Most companies still choose to rent rather than purchase premises for their operations, thus directing the company's financial resources to business development. Renting premises means that companies can work in premises that are managed professionally and meet the needs of our times, and it allows for a more flexible response to any economic and market changes.