Covid19 tests with results within 24 hours - now also available during home and companies visits
Covid19 tests with results within 24 hours - now also available during home and companies visits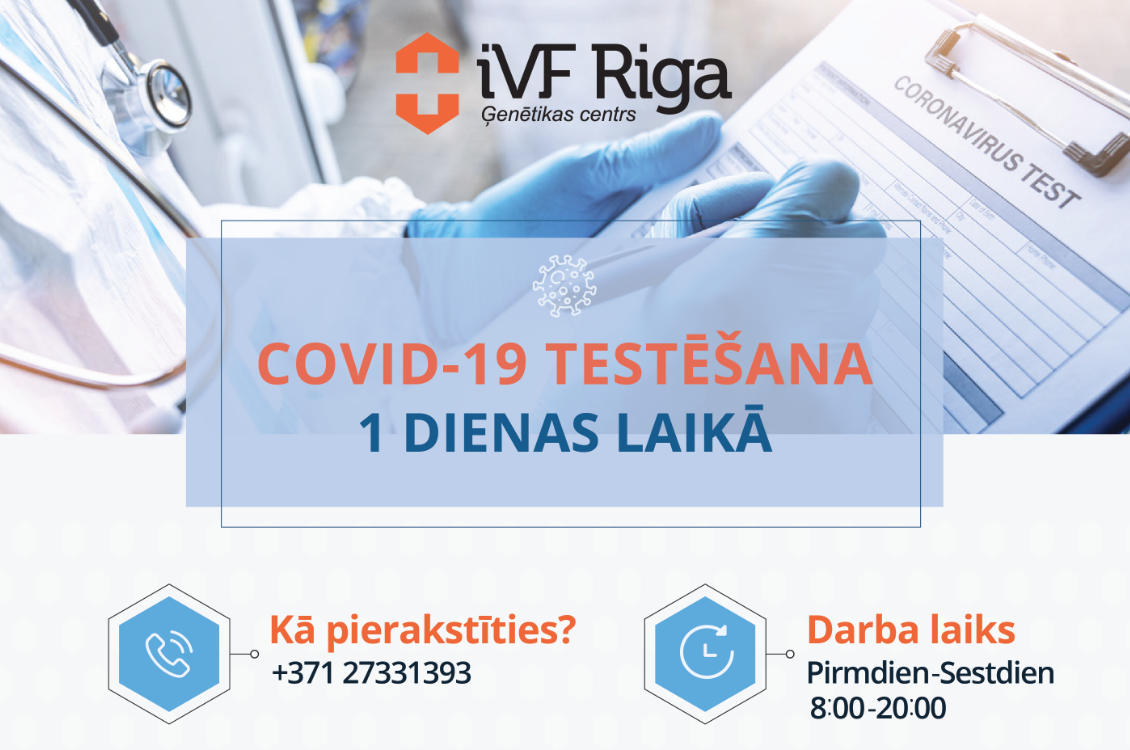 Covid 19 testi, IVF Riga
On 19 November 2020, the Genetic Centre iVF Riga has opened a new Sample collection point for Covid-19 testing. The Health Inspectorate verification has been successfully completed and a conclusion has been received that the testing point meets all requirements and is ready to perform testing. We are ready to receive patients and carry out outward visits.
To sign up for a Covid-19 test or register a visit, please call the contact phone +371 27 331 393. The call centre is open on weekdays and Saturdays from 8:00 to 20:00. The testing price of the Covid-19 test is 50.00 EUR, the price for a home visit is from 100.00 EUR.
After you signed up for the test, you need to pay for it at https://ivfriga-online.lv/
The results will be sent by email in coded form within 24 hours.
Testing for Covid-19 at the Genetic Centre iVF Riga has been carried out since March 2020. The testing was started simultaneously with the other Latvian laboratories; however, the Genetic Centre provided testing only to patients and the staff of the iVF Riga clinic to ensure the safety of manipulations and procedures.
Assessing the current situation, Genetic Centre iVF Riga decided to open a sample collection point and ensure Covid-19 testing for the wider public in order to support faster responses and help the state and its people in a difficult situation.
Covid-19 testing is carried out in the laboratory of the Genetic Centre iVF Riga accredited in accordance with the international standard LVS EN ISO 15189 in the following areas: molecular genetics, cytogenetics, andrological and embryological studies of human material. Accreditation certificate LATAK-M-541-02-2015.